Intelligent design
will make your
project a success!

Home

Products

Services

Examples

Purchase

Demo

Customers

Associates

Contact Us

Hosting

Development
EasyTrak.net is a full service software development firm.
How easy could setting up a real-time web site really be? Ask us!
EasyTrak.net and it's tools can be used to build world wide applications. The graphic below in an example of a full circle Requisition and PO system. All automated to integrate with Freight Forwarders, Shippers and Vendors.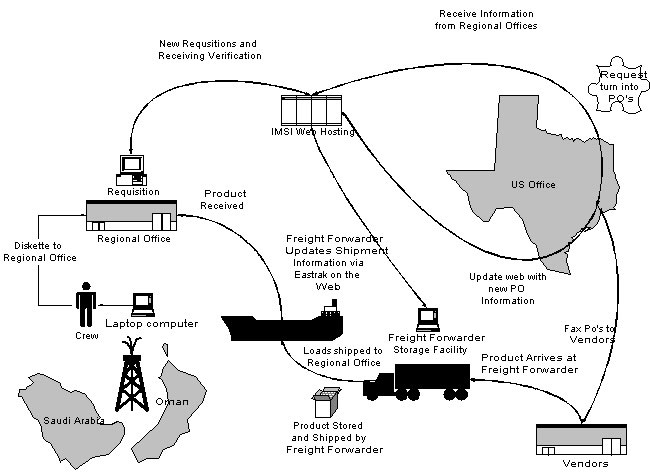 This system starts in the field where the crew requests needed product or equipment on a laptop system. This information is transported to the regional office where all requisitions are consolidated and sent to the main office via the web.

The main office retrieves all regional office requisitions and processes this information into a PO system.

PO's are faxed directly to vendors from the PO system. This PO information is also transferred to the web for all to review. (line item status's are ordered, received by freight forwarder, shipped by freight forwarder and received by the regional office)

PO information is transferred to the freight forwarder's system. As the product or equipment is received at the freight forwarder, processing begins and the status's are updated, in real-time via the web to the main office system. The final status at the freight forwarder is when the product is shipped.

When the product arrives and is received at the regional office, the PO line items are marked as received. This information is updated, in real-time via web to the main office system. When all line items are received the PO is closed.
Be sure to call and ask how Easytrak.net can help your company.